Jonathan Bellamy spoke with Danny Punnose, the Vice President of Gospel for Asia, about the causes of extreme poverty in the world and what needs to happen to break the cycle.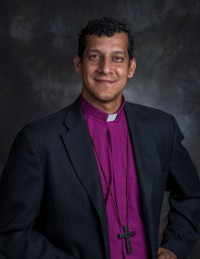 Danny Punnose
A new article published by the Christian mission's agency Gospel for Asia turns the global spotlight on complex issues keeping millions in grinding poverty. The report looked to uncover the reasons why, according to the World Bank, extreme poverty remains "unacceptably high" with parts of Asia among places where incomes for the poor are growing slower than average. To hear about their article and their work Jonathan Bellamy spoke with Danny Punnose, the Vice President of Gospel for Asia.
Jonathan: Let me ask you first of all, about that report by the World Bank. What was the context of the quote about extreme poverty remaining unacceptably high? What was their report about?
Danny: When you look at the strata, especially in very difficult places like in Asia, it's a reality where people who are living at a lower strata find it very difficult to be able to have the same opportunities that others do. This includes education, or certain types of jobs. The areas where we work especially, you find that people are often stuck in the rut of having the same kind of very low-income type of reality.
Unfortunately, there aren't a lot of things that people can do, unless there are people to come alongside and help to lift them out of these situations. In some of the places where we work, children don't have a chance to be able to go to school. They have to work along with their family in bonded labour, or in menial work, to be able to put food on the table. So you have this dilemma, this very difficult situation, where if everyone in the entire family does not work, you don't have enough money to feed the family.
There are many dynamics of what this article is talking about, but the reality is unless there is the opportunity for people to rise above what they have right in front of them, it becomes very challenging for people to change the course of their future.
Jonathan: In terms of what we call poverty, am I right that the poverty line is people who are surviving on less than $1.90 a day? Is that what's defined as the poverty line?
Danny: Yes, that is the reality for much of the world. People are barely surviving on about $2 a day.
Of course the logic is that each country's income and exchange rate will be different. But we spend more on bubble-gum and coffee than most people have to live on.
Like I mentioned before, the reality of barely scraping by and doing very menial type of jobs, where if people could get an education and could get a job - it's not that they're lazy, they just don't have the opportunity. For less than $2 a day, there's nothing that can be saved. So when you have the reality of barely getting food on the table, never mind if someone gets sick in the family, you don't have money to afford the medicine. These kinds of situations compound; if you can't make enough money, how can you send your kids to school? You can't even buy school supplies, you can't buy pencils.
It's not one of those situations where it's a simple just give them more money. It's a compounded issue where they can't afford medicine, they can barely afford food, they can't afford education and it just gets worse with each generation. But, by God's grace, we've seen huge opportunities to be able to change the course of people's lives through down to earth initiatives that are tangible and real.
Jonathan: In your response to the World Bank's report, you said that millions are finding it so difficult to eke out a living, because of "a complex web of factors." Can you talk about some of those factors behind this poverty? What are the real issues?
Danny: In some of the places where we work, you'll find, for example, the man who is selling vegetables on the side of the street. He has to take out a loan in order to be able to purchase the vegetables, so that he can sell them. But the interest rate is so high on the loan that he can never pay it back.
There are other situations where people can't read or write, and it happens very often that people are taken advantage of. Especially those that are in bonded labour, they are paying off a debt for 20 years that they have already paid off many times over, but they don't realise they've paid that debt.
There are so many difficulties on a ground root level. The solutions are there, but many of us don't realise, because most of us have not travelled to some of these places, or been exposed to these situations. We don't realise that this is happening. Being aware can help us to live differently, to make better decisions and choices. And also to see the opportunities for us to be able to impact a world out there in the love of Christ.
Those of us who know the Lord are supposed to be the examples and be the ones to touch a dying and hurting world. This is a different way of living. This is Kingdom living. It is what we are called to be as believers and followers of Christ. It's not just going through life looking inward and forgetting everyone else around us.
Jonathan: The other thing is, the impact on the next generation, isn't it? What you're saying is that people can't earn enough money to be able to pay back the interest and the debts, so the next generation, their children, end up having to go out to work and become child labourers. You quoted there are almost 170 million child labourers in the world. Can you talk a bit more about the impact on the next generation, and particularly girls? I understand they are the most vulnerable.
Danny: Child labour is a huge reality that's happening right now. I know there have been great efforts by governments and by people and citizens to bring awareness against slavery. A lot of people put the red cross on their hand to bring awareness of that. People are aware of certain types of slavery, but then there is child labour and bonded labour.
When these kids cannot get an education, they are locked into the cycle of poverty. There is no realistic long lasting way to break the cycle of poverty, especially for children, if they cannot be educated, and if they can't learn especially English, which is a trade language of the world. You can't resolve this by just giving them some money or a handout. Education is something in the West that we don't value as much because we have it so much, but there are kids under streetlights, on the street, studying their homework because they are so desperate to be able to learn and get an education. There are millions and millions of children who aren't able to get an education that can't have a future and a hope.
Whatever is the fate of their families, they will carry that fate on until something can change the course of that future. By God's grace there are efforts and changes that are happening. But unless we can do something about it, it will just be repeated over and over again.
Those who have much opportunity, their kids will have much opportunity, and those that don't have any opportunity are locked into this reality of their kids carrying on the same thing over and over again. It's a heart-breaking thing once we realise it, but a lot of people don't even realise it because they've never been exposed to it.
Jonathan: Let me ask you about your work with GFA. You're working at a grass roots level, aren't you? Trying to develop literacy programmes particularly for women. And you've got something called 'Bridge of Hope Centres'. Tell us about your work there.
Danny: You've touched on two specific things. Earlier on you asked about the endangerment of women. Especially when young girls are not educated, or don't have the opportunity to go to school, a lot of times they are in danger of being pulled into human trafficking, and the sex trade. They're misused and abused.
A lot of times it's simply they are at home fetching water, walking for kilometres at a time, which is a completely different issue. Providing clean water in an area with no clean water actually helps to protect the ladies from endangerment. But education on top of that, as you mentioned, can ensure that a lot of these girls are protected from human trafficking.
You are preventing some of these things from happening, rather than trying to pull them out of it. Many people are doing a great job in doing that. In Gospel for Asia one of our heart's passion is to help as many children as possible to have a future, to have hope and to be able to have an education, so that they can break through the cycle of poverty and be able to change the course of their family, and be able to change the course of their future and their own families later on.
The Bridge of Hope is a programme where those of us who have resources can help a child in Asia by helping them to be able to go to school, but helping them to also have holistic understandings of trainings. Every afternoon during the school week we get to meet with these children at the Bridge of Hope Centre and teach them about hygiene and teach their parents how to take care of the kids. There's a medical check-up once a year. There is a hot meal every single day that they have at the Centre. For some of them, that's the only hot meal that they get.
We've seen literally thousands and thousands of children's lives changed. Right now we have over 70,000 children in the Bridge of Hope programme and we would love to see at least half a million children. It's so simple. For less than a cup of coffee a day that you purchase, you can actually help one of these children to be able to have a future and to be able to bring great change to these children's lives. It's amazing; you are practically doing something and making a change in a child's life.
Jonathan: I assume the information on all your work and also how people can be partners and support you in that is on your website. Could you give us the details for where people go?
Danny: If people go to gfa.org or gfauk.org you should be able to get all the information about Bridge of Hope; about clean water, and about what we're doing. Specifically for Bridge of Hope, go to gfa.org or gfauk.org and you can get so much information and practical information, not just awareness. But I would also encourage people to please use your social media. Let your friends know about the opportunity. This is not an awareness campaign. This is an opportunity to bring real change to real lives.

The opinions expressed in this article are not necessarily those held by Cross Rhythms. Any expressed views were accurate at the time of publishing but may or may not reflect the views of the individuals concerned at a later date.
About Jonathan Bellamy
Jonathan Bellamy is the CEO of Cross Rhythms. He presents the daily City Drive
radio
programme and is married to Heather.
View all articles by Jonathan Bellamy
We welcome your opinions but libellous and abusive comments are not allowed.